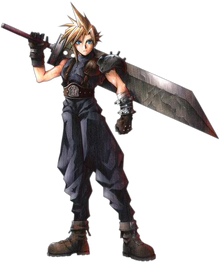 Hello everyone, I am Shadow, and I am a huge fan of DEATH BATTLE! I am an Admin on this wiki, promoted to admin as February 8th, 2015, so, if you're lost or in need of assistance, please feel free to contact me on my Message Wall, and I'll be sure to get back to you as soon as possible, better yet, if you want to ask me a question, feel free to ask me a question on my ask.fm account.
I got into Death Battle after watching Link vs. Cloud, intrigued by the match itself, I wanted to see who would win between other characters from Final Fantasy, that's when I decided to become a member of the Death Battle Fanon Wiki, I am quite active and I enjoy seeing other people's original ideas and I enjoy doing my own research to conclude my own ideas, I look forward to seeing more and more ideas in the future!
Are you into Waifus/Husbandos? Then feel free to check out my blog about my personal Top 10 Waifus.
Death Battles Ideas I have created!
Here are all my fights here on the wiki!
Season 1 - Dawn of the Fantasy (Complete)
Season 2 - The Concealed Darkness (Complete)
Season 3 - Severed Ties (Complete)
Season 4 - A New Dawn (Complete)
Season 5 - Resurgence of Power (In Progress)
What the combatants from my battles have in common
Character Consideration List
These are the characters I would like to use in future Death Battles, characters in italics are strong contenders to appear in a future episode, but are not confirmed, characters in bold are confirmed to appear in a future episode!
One Minute Melee
I also write One Minute Melee blogs here on the wiki, here you'll find some characters who haven't shown up as combatants in my Death Battle series, and a couple of my scrapped Death Battles turned One Minute Melee blogs!
Death Battle Collaborations!
And there are fights so awesome, they need two people working on it instead of one, and these are the fights that I have worked on with another user.
Death Battles I have contributed to!
Other than the Death Battles I have created, I also upload the VS thumbnails for other Death Battles! At request as well! If you would like me to provide your Death Battle with a VS logo, let me know, and I'll get right on it!
Other Death Battle Ideas
These ideas sure sound awesome, but sadly, they're either one-sided or a combatant hasn't shown enough capabilities in battle. 
Community content is available under
CC-BY-SA
unless otherwise noted.