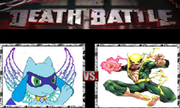 Spartis vs Iron Fist is a What-if Death Battle by Zinniax-13
Description
Superhuman masters of the martial arts. Can Spartis fight off to victory, or will Iron Fist put the "reality check" on him?
Interlude
Wiz: Martial arts, the form of combat where the person uses nothing but their own fists for combat...
Boomstick: Well these two are superhuman MASTERS at it! We have Spartis, the Arch-Riolu.
Wiz: And Iron Fist. the Chi-powered martial artist.
Boomstick: He's Wiz an i'm Boomstick!
Wiz: And it's our job to analyze their weapons, armor and skill, to see who would win, a Death Battle!
Spartis
TBA
Iron Fist
TBA
FIGHT!
TBA
K.O
TBA
Results
TBA