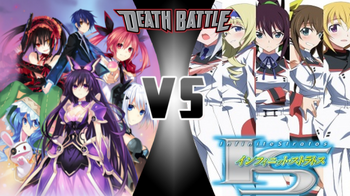 Shidou's Harem vs Ichika's Harem is a What-If? Death Battle.
Description
Date-A-Live vs Infinite Stratos! The two biggest harems turned into animes from Light Novels from the 2010's head off face to face against each other.
Interlude
Shidou's Harem
Shidou Itsuka
Origami Tobiichi
Tohka Yatogami
Yoshino
Kurumi Tokisaki
Kotori Itsuka
Yuzuru Yamai
Kaguya Yamai
Miku Izayoi
Ichika's Harem
Ichika Orimura
Houki Shinonono
Cecilia Alcott
Lingyin Huang
Charlotte Dunois
Laura Bodewig
Tatenashi Sarashiki
Pre DB
Death Battle
Results
Community content is available under
CC-BY-SA
unless otherwise noted.