Sasuke Uchiha vs Jin Kazama
is a What-If Death Battle that. This fight will feature Sasuke from Naruto and Jin from Tekken.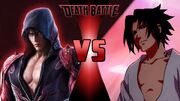 Description
Naruto vs Tekken! These two cursed and youngest in a messed up families will face off, but who will prevail? The Avenger Fist Or Chidori??
Intro
Boomstick: Man, some people have some fucked up family heratages. Like throwing family members off of cliffs or outright fucking murdering your loved ones right in front of your little brother! For example look at your family, and then compare it to these possessed fighters' families. Jin Kazama, The Lightning Of Fate.
Wiz: And Sasuke Uchiha,the shinobi rival to Naruto Uzumaki.
Boomstick: He's Wiz and I'm Boomstick.
Wiz: And it's our job to analyze their weapons, armor and skills to find out who would win a Death Battle.
Jin
Sasuke
Fight
Conclusion