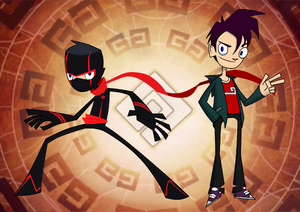 | | | |
| --- | --- | --- |
| " | "Believe in the weapon that is in the suit."? Okay, what's in the suit? I'm... in the suit. I'm the weapon! I just have to believe in me! | " |
| | ~ Randy Cunningham | |
Randy Cunningham is the main protagonist of the Disney XD animated television series, Randy Cunningham: 9th Grade Ninja.
Fanon Wiki Ideas So Far
Abandoned Battles
Completed Battles
Battle Record
WARNING: The following tab will reveal the numbers of wins and losses for the following character. Read at your own risk.
Battle Record
Wins: 0
Losses: 1
Draws: 0
Possible Opponents
Death Battle Info
Background
Age: 14.
Occupation: 9th Grade Student.
Secret Identity: The Norrisville Ninja.
He is totally Bruce.
He is the Ninja #200, in 800 years.
Ninja Suit
It gives the wearer:

Increased strength.
Great agility.
Superhuman Reflections.
Increased speed.
Great knowledge of fighting and Ninja Arts.
It gives knowledge how to use the weapons that the suit possesses.

Can carry a LOT of weapons
The costume gives the wearer several types of spells.
Eternally linked to Tengu, a demon bird.
Ninja Weapons
Ninja Balls.

Small bombs in the form of spheres with different types of explosions: Hot, Cold, Glowing, Hards, Bees (Megaman would be so proud), Boom Balls, Tiny Boom Balls that cause a bigger explosion and Sticky.

Ninja Chain Sickle

A long chain with a sickle at the end. Randy often uses this weapon to kill multiple opponents at once or to use it against large enemies to hit them from afar.
Is actually a pair of Kusarigamas.

NInja Eskrima

A pair of high-quality batons with which he performs this martial style.

Ninja Manrikigusari

A set of twin sticks linked together on a segmented chain blade which can stretch up to great lengths even attacking from long distances, or they can be reconnected at the base to for a pair of short stick Billy Clubs in battle as well.
Ninja Nunchucks

A couple of Nunchaks, that's all.

Ninja Rings

A pair of very light tapered discs, which can bounce off in the walls.
Can cut throw robots and Steel.

Ninja Sai

Ideal weapons to block attacks.
It manages to cross Robo-Apes easily.
Able to break The Eye of Eternities.

Ninja Spikes

Located on their knuckles and soles of the feet.
Helps to scale more easily.

Ninja Sword

The most used weapon by Randy.
The suit has a second sword to fight with double grip.
According to S. Ward Smith, the Ninja Smith, properly used this may be the most powerful weapon of the Ninja.
"Can not cut stupidity".

It probably means that misused, the weapon becomes weaker.

The Sorcerer, to its maximum power, could cut it in half with its own weapon.
Actually isn't a Katana (That is a Samurai Weapon), but is a Ninjato.

Smoke Bombs

When it explodes, it creates a thick curtain of red smoke for fast escapes, almost teleportation.
Although wide, Randy has a limited number of Smoke bombs.
They smell like farts.
Ninja Arts and Magical powers.
Ninja Rage Mode

It gives the ninja pyrokinesis.
It also represents the union with Tengu.
In this state, the Ninja Sword burns.
In this state the Tengu Ninja Fireball is made.
It only lasts a few seconds.

Earth Attack

It allows the Ninja to control the Earth.
The Ninja can create a giant earthworm, "Sandjas", Mud balls attack and giant earth cyclones.
Creations can not regenerate themselves.
It can be done without putting on the mask.

Hydro Hands

He can attack by throwing a hand of water.
Leaves the floor slippery.

Comet Sprint

It can run at Super Speed.
Leave a trail of light that creates a wall.

Art of Healing

It can bring life back to the dead and reverse that process.
It is not known if he can heal wounds.
Can repair Machinary.

Air Fist

It can trigger a powerful blast of air.
Can modify the shape of the blast to give greater width, length and power.
Can use it to block attacks.
Able to break steel and solid rock.
Randy does not use this attack very commonly.

Art of Disguice

The ability to change the user's physical form.
If the user can not control the energy of this ability, the changes made by the bliss come out of control.
It can be done without having the mask on.
The NinjaNomicon
A manual that collects and teaches the experiences of past ninjas.
It has its own Mind.
By using it, it lodges the user's mind within their pages, leaving the body in a trance.
He decides who enters inside.
"Inside the Nomicon everything is possible.
" The "Ultimate Lesson" erases the Ninja's memory and puts all of their knowledge in their pages for later users.