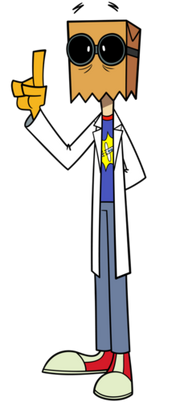 Dr. Flug is a crazy scientist and one of the main characters from the Cartoon Network.
Fanon Wiki Ideas So Far
Possible Opponents
Flint Lockwood

Alphys

(Undertale)
Plague Knight (Shovel Knight)
Valentine (Skullgirls)
Wizard (DEATH BATTLE!)

Brain

(Pinky and the Brain)

Proffesor Membrane
Kowalski

(Madagascar)

Lord Boxman

(OK K.O)
Plankton (SpongeBob SquarePants)

Proffesor Hubert Farnsworth

(Futurama)

Nora Wakeman

(My life as a teenage robot)
Proffesor Frink

(The Simpsons)
Alonside Dementia
Death Battle Info!
Name: Flug Slys
Age: Unknown
Gender: Human
Gender: Male
Classification: Evil Scientist, member from Black Hat Inc.
Powers And Abilities
Human Level Strenght
Superhuman Speed
Superhuman Durability
Genius Intelligence
Equipment
Shrink Ray (Can grow up and shrink things via an energy ray)
Gravity Device (Can make everything which is near the Gravity Device Float if the Device is used)
Portal Gun
Medusa Device (A Machine that creates cheap, high-quality statues of the user)
Hatbot-Sentinel (A Black Hat-Looking Robot belonged to Black Hat Inc., Robot Line Specifically Designed to cause havoc during Cristmas Time Celebrations)
Feats
Was able to Dodge Lasers
Tanked be Submitted And Stomped by Black Hat
Created 5.0.5 who is capable of tanking blows from Black Hat
Killed Jasper And Peridot
Created the Universal Remote and the Omnitrix
Weaknesses
Constantly Annoyed by Dementia
He is scared by Black Hat
The worst thing Flug can imagine are Sandwiches