Welcome to Death Battle Fanon Wiki
Where you can show the combatants and battles that you want in Death Battle!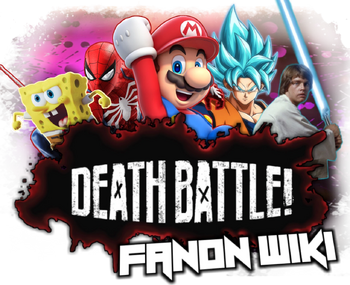 For fans of Death Battle, there is at least one battle that they'd love to see, but even Death Battle can't cover all of them. Here, whether it has a high chance of happening or not, you can show just how you'd imagine them to be.
For information about Death Battle
click here!
This is a fanon wiki and so the content that is created on here solely originates the imaginations of it's contributors. This wiki is not associated with ScrewAttack themselves and should not be treated as if it was associated with them.
This wiki also contains fairly violent content and swearing so if you find said content particularly disturbing we'd recommend NOT reading the What-If? Death Battles that are created on here.
Help to fix grammar or page structure errors, and to reword crude language is highly appreciated as long as you aren't trying to fill out the battle sections of a page that has another user's user category on it without their permission. Any users found doing so will result in Warnings and blocks being given to them.
Take note that, due to considerable problems with trolls and vandals, it is automatically required that our members wait for 4 days after first creating an account before they are able to edit, and they must also have a confirmed email address.
Also, make sure to read Fandom's terms of use. Their staff members are extremely vigilant at enforcing them.
We do have a content filter in place that prevents our members from posting various ethnic, sexist, and religious slur words, but please still try to be extremely careful to avoid them (including misspelled versions, with separated letters, or even by quoting somebody else) or the Fandom staff might globally block you for very long periods of time.
Important Notice: The promotion section of the video is part of a Hitler predicts/reacts video and while the video contains no offensive material towards groups of people affected by Hitler's actions, if you do find any content to do with Adolf Hitler in general to be particularly unsettling or uncomfortable we'd recommend that you do not watch said video.
Want to create a new combatant page or make a new Death Battle? Then please follow the page formatting guidelines.
On mobile and want to add a battle or a combatant? Click below:
Note: PLEASE check to see if the character or Death Battle you want to see is already on the Wiki before creating a new page. This helps prevent duplicate pages.
Polls done for fun, and are to be updated after every official Death Battle episode.
Eighth Year Anniversary Milestone
This celebration in 2021 celebrates the eighth year as it was first conceived by the original founder on August 17th 2013. Despite facing numerous challenges in the form of major FANDOM updates, repeated raids by trolls and a 5 week lockdown, the site is still going strong. While images were created honouring various characters, staff members and regular users from the wiki, the community was also encouraged to submit thumbnails on Haohmaru VS Jago, the first battle page completed by former Head Bureaucrat, Arigarmy in order thank him for his efforts in bringing the wiki where it is today. Several users submitted thumbnails for the page which proves that the wiki continues to thrive 8 years after its creation, a fact that this community is particularly grateful for.
Summary completed by current Head Bureaucrat, Big the cat 10.
See previous milestones here
Seventh Annual Death Battle Fanon Wikia Award Winners
See previous award winners here
---
None of the research of Death Battle. All of the epicness of Death Battle.
---

60 Seconds! No Research! No time for talking! MELEE!
---
A version of the Death Battle Fanon, DBX Fanon and One Minute Melee Fanon wikis created for Spanish-speaking users!
---
The ultimate information database about ScrewAttack itself — the father of Death Battle, One Minute Melee and DBX.