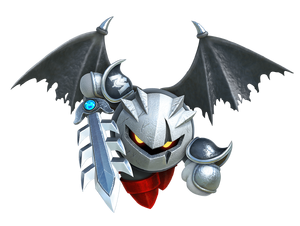 Dark Meta Knight is a supporting antagonist from the Kirby media franchise.
Fanon Wiki Ideas So Far
Battles Royale
Death Battle Fanon Wiki:Dark Nintendo Character Battle Royale
Battle Record
WARNING: The following tab will reveal the numbers of wins and losses for the following character. Read at your own risk.
Battle Record
Wins: 0
Losses: 1
Draws: 0
​Possible Opponents
History
Death Battle infos
Background
Name: Dark Meta Knight, Black Meta Knight, ???
Created by copying Meta Knight's dark side with the mirror.
Arsenal & Abilities
Galaxia Sword: a near copy of Meta Knight's own Sword. Can create even bigger versions of it with the Mirrors.
Flight.
Mach Tornado.
Beam Attacks
Duplication
Regeneration
Possible Catoptromancy
Feats
Defeated Meta Knight in the first encounter and sealed him in the Dimension Mirror.
Split Kirby into four Kirbys.
Got resurrected in Kirby Triple Deluxe as he was shattered into pieces.
Possibly corrupted Queen Sectonia.
Fought against King Dedede
Faults
Got defeated by Kirby(s)
More aggresive than the Regular Meta Knight.
Got defeated by King Dedede along with the Dimension Mirror
Trivia
Gallery