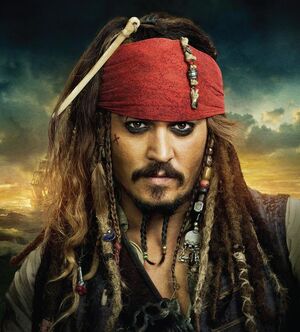 | | | |
| --- | --- | --- |
| " | You may kill me but you may never insult me! Who am I?...I'm Captain Jack Sparrow! | " |
| | ~ Captain Jack Sparrow, Pirates of the Caribbean: At World's End | |
Captain Jack Sparrow is the main anti-hero from the Disney movie series, Pirates of the Caribbean.
Fanon Wiki Ideas So Far
Battle Record
WARNING: The following tab will reveal the numbers of wins and losses for the following character. Read at your own risk.
Battle Record
Wins: 3
Losses: 0
Draws: 0
Possible Opponents
Death Battle Info
Background
Age: Mid 40s
Height: 5' 9"
On and off Captain of the Black Pearl
Alias: Smith or Smithy if you like
Bounty: 10,001 guineas or 200 pounds
Likes William Shakespeare's work
Loves rum, performing piracy, being free..... And being referred to as Captain
Skills
Self-Taught Sword combat.
Expert Marksmen
Cunning leader and skilled improviser.
Very capable escape artist
Relatively capable athlete
Weaponry
Hanger Cutlass

Rusty and a bit worn out
Slightly longer then other cutlasses to keep his opponents at a distance

Flintlock pistol

Was given to him by Barbossa after he marooned him
Had one shot which he saved specifically for Barbossa
Continued using it from then on

Jack Sparrow's Compass

Was a gift from voodoo mystic Tia Dalma
Has supernatural qualities
Can locate the direction of one's most desire
Has led Jack to find the Treasure of Cortez, the Dead Man's Chest, and the Fountain of Youth
Is seen as useless to the unknowing person since it doesn't point north
The Black Pearl
Jack Sparrow's Ship
Formerly the "Wicked Wench" before Davy Jones rose it out of the depths
Length: 165 feet
Number of Cannons: 32
Classified as nigh-uncatchable
Was sunken twice, and trapped in a bottle
Jack commonly loses the Pearl.

Lost it to Captain Barbossa, twice.
Crew
Mr. Gibbs: Right-Hand, and most loyal member.
Captain Barbossa: Treacherous Right-Hand
Will Turner (Sometimes/Formerly; Current captain of the Flying Dutchman)
Elizabeth Swann (Sometimes/Formerly; Currently raising her and Will's Son)
Tia Dalma (Formerly; Became the sea goddess Calypso)
Cotton
Marty
James Norrington (Temporarily)
Bootstrap Bill Turner (Formerly; Currently is a crew member of the Flying Dutchman)
Ragetti and Pintel
Jack the Monkey

Barbossa's Pet
Undead and immortal
Loves to annoy Jack (And really anyone who isn't Barbossa)
Feats
Was able to hold his own against Will Turner, Norrington, Barbossa, Davy Jones, and Angelica in sword play
Shot the hanging barrels of gunpowder with a musket despite it be obstructed by the Kraken's tentacles
Escaped Davy Jones' locker
Accurately shot the Dead Men's Chest out of Davy Jones' hand despite swinging from a rope in the middle of a maelstorm
Is so unpredictable that people can't tell if he's mad or a complete genius
Technically won the three way duel between William Turner and James Norrington by obtaining the key to the Dead Man's Chest
Was marooned on a deserted island by Barbossa with nothing, but a flintlock pistol along with some hidden alcohol for ten years and still managed to escape
Was the Pirate Lord of the Caribbean
Broke Mr. Gibbs out of court while posing as a judge.
Was able to hit a fleeing crew member of the Flying Dutchmen with nothing, but a coconut
Found the Fountain of Youth
He briefly became the Chief of Cannibals who believed him to be a god
Survived being sent down a waterfall
Orchestrated the events leading up to the climax of "World's End"
Survived several encounters with Captain Salazar, and his ghostly crew, multiple times.
Accidently fell from the top of a cliff, and crashed through six wooden bridges, well over 100ft...... and survived with little to no injuries, and next to nothing to break his fall.
Faults
Confirmed to be the worst Swordsmen in the Pirates of the Caribbean universe
Is selfish
Mostly self taught
Depending on the person he's labeled as the "Worst" pirate they have ever heard of
Always losses his ship
Sense of morality can get the better of him
Questionable sanity
Is a bit of a coward and fears death
Many people don't believe his stories since he always likes making outrageous tales to strengthen his reputation
Has made a lot of enemies
It's unknown if he plans everything from the start, or just makes it up as he goes along.
Has yet to achieve immortality.

Has had multiple moments where he could've acquired immortality.

Has been captured a number of times despite being an expert escape artist
While known to be very lucky, Jack's luck has been known to wear out on several occasions.
Has officially been killed at one point in his life
Gallery
Trivia
Community content is available under
CC-BY-SA
unless otherwise noted.