DESCRIPTION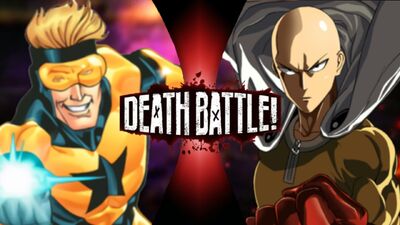 Powerful heroes with unique abilities who want fame and glory, but end up being unknown.
INTRO
Boomstick: We don't always get what we want.
Wiz: But when we get what we desired, wheather that be ultimate power or fame, do we want what we are given?
Boomstick: I don't get it.
Wiz: Saitama, the One Punch Man.
Boomstick: And Booster Gold, the hero nobody knows.
Wiz: This will be a very interesting fight indeed.
Boomstick: He's Wiz and I'm Boomstick!
Wiz: And it's our job to analyze their armor weapons and skills to figure out who would win A DEATH BATTLE!
SAITAMA IS SERIOUS FOR DEATH BATTLE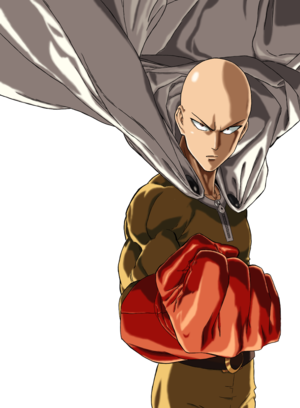 Wiz: In the large metropolis of City Z, superheroes are of the ordinary. There's even a Superhero Organization!
Boomstick: And all those assholes are lame. There's Tiger Tank Top, Lightning Max, Smile guy and others.
Wiz: But there are great heroes in the Hero Organization, like Genos, Tatsumaki and Saitama.
Boomstick: Saitama was a former businessman when he was laid off. But then he met a giant... half crab-man in his underwear... what the hell?
Wiz: Yes, this is weird on so many levels, but this crab-man was going to kill Saitama if not for one thing: Saitama just didn't care. His cold dead eyes convinced the crab-man to spare his life.
Boomstick: Turns out, crabby briefs wanted to kill a kid who drew nipples on his shell. And this kid... has buttchecks for a chin.
Wiz: Boomstick, stop making fun of kids. Stop it. Stop. However, Saitama found the boy before the crab-man did and risked his life to save the boy.
Boomstick: But Crappy-dressed-Crab was killed by Saitama by getting his eye pulled out?!
Wiz: And so, the former businessman decided to spend the rest of his life doing what he wanted to do as a child: be a superhero and sent bad guys flying with--
Boomstick: ONE PUUUUUUUUUUUUUUUUUUUUNCH!
Wiz: Yes. And after three years of training, he became powerful enough to do what he wanted. But this left him in an excesstential crisis.
Boomstick: Say what now?
Wiz: He couldn't find any joy in a fight because of his absurd power.
Boomstick: So?
Wiz: Imagine drinking your beer, only to not be able to enjoy the taste.
Boomstick: OH GOD, WHAT KIND OF HELL IS THAT?!
Wiz: That was the mindset of Saitama. The only time he thought he could find the thrill of fighting was in his own dreams.
Boomstick: How powerful is this guy?
Wiz: I do have an idea of how powerful he is.
Boomstick: Okay.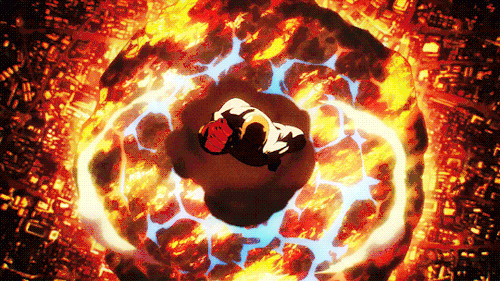 ​​​​​​Wiz: He once shattered a meteor, that was ranked between 6 and 9 on the Torino Scale! That means, he destroyed a meteor that was about as powerful AS THE ONE THAT KILLED DINOSAURS!!! THAT ALONE EQUALS TO 100,000,000,000,000 TONS OF TNT.
Boomstick: Holy fucking shit.
Wiz: Indeed.
Boomstick: HOW? How did he get this power?!
Wiz: One hundred push-ups, one hundred sit-ups, one hundred squats, and ran 10 kilometers everyday for three years straight.
Boomstick: I should start working out.
Wiz: Yes, you should. Hey Boomstick.
Boomstick: Yeah?
Wiz: This isn't even his greatest feat.
Boomstick: Oh my god. He could fight Super--
Wiz: But I doubt he could beat Superman.
Boomstick: Damn it.
Wiz: We haven't seen him at his most serious yet.
Boomstick: What does that mean?!
Wiz: Boomstick. Look at those pictures.
Boomstick: Fair point.

Wiz: In his most seriousness, the shockwave of his Serious Punch parted the clouds ACROSS THE ENTIRE PLANET WHEN HE PUNCHED A GIANT LASER BEAM THAT COULD DESTROY ALL LIFE ON EARTH!!!
Boomstick: Looks like there's nothing that can beat him, right?
Wiz: Actually there are things that could beat him.
Boomstick: WHAT?! But he can make after-image clones of himself, FLIPPED A FUCKING BATTLEFIELD BY HIMSELF AND HAS A SUPER HEADBUTT MOVE!!!
Wiz: Of course, but opponents with freakish overpowered healing factors like Boros can regenorate or reform. Plus, he can't even kill a mosquito.
Boomstick: A giant mosquito?
Wiz: No. Just a normal one.
Boomstick: Goddamnit.
Wiz: Silver Fang has outmaneuver Saitama and has been ranked about as fast as him, meaning that someone could outrun Saitama. Plus, he can't breath in space.
Boomstick: Seriously? He crashed in the fucking moon and SURVIVED, Wiz.
Wiz: But he couldn't breath.
Boomstick: How is that possible?
, Wiz: Now, you ask?
Boomstick: Fair.
Wiz: As we've said before (click here if you want to see Genos vs. All Might), we believe that Saitama can run up to around 44 million miles per hour. And while he's bragged that he can beat a god, this is not possible for two reasons:
He has never fought a god.
Saitama has only fought beings on his planet (aside from Boros that is).
Boomstick: Plus, he's just not a very skilled fighter. He just throws random punches. But now, LET'S TALK ABOUT HIS CRAZY AS FUCK FEATS!!!
Wiz: In scientific terms, sure. But in testosterone fueled terms... OKAY, LET'S DO THIS.
HE WAS SMASHED INTO A BUILDING AND PUCHED A WHOLE SHIT-TON BY A GIANT MONSTER A BUNCH OF TIMES AND JUST JUMPED OUT!!
WHEN SOMEONE TRIED TO CUT OFF HIS FUCKING HEAD HE BIT THE SWORD!
SAITAMA ONCE PUNCHED HIMSELF OFF OF THE FUCKING MOON WITH NO TROUBLE!!!!
AND HE--
Boomstick: Wiz? Are you okay?
Wiz: Sorry, back to his feats. Boomstick?
Boomstick: Saitama one-shot a hole in Deep Sea King after he took out Genos, who IS AN S RANK HERO, killed a giant octopus with a single pebble, kept up with Tatsumaki and Speed-o-Sound Sonic (Hell, even nailed him in the crotch by accident) and has the Serious Punch, which destroyed A LASER WHICH WAS CONFIRMED TO DESTROYED THE EARTH!!!
Wiz: Yes, it looks like he made his dream come true.
Boomstick: But no, he's not happy about it. But at least he's got a bitchin' theme song.
BOOSTER'S POLISHING DEATH BATTLE UNTIL IT'S GOLD
​​​​​Boomstick: Okay, who wrote that one movie where people shrink to travel through time? CAUSE I CALL FUCKING HORSESHIT ON THAT!!! At least Booster here did it right. 
Wiz: Michael Jon Carter was a football player who purposely threw games to win money.
Boomstick: Wow, sounds like that one douchbag football coach, what was his name?
Wiz: But Michael did this to save his mother from dying from a disease.
Boomstick: Oh. After getting arrested and released from prison, Michael got a job as at the Metropolis Space Museum which is about heroes of the past, like Superman. OH YEAH, DID WE FORGET TO MENTION?!
Wiz: This all happens in the 25th century.
Boomstick: Turns out that future security sucks, because he STOLE A TIME MACHINE AND OTHER SUPERHERO GEAR AND A ROBOT NAMED SKEETS TO TRAVEL BACK IN TIME AND MAKE A NAME FOR HIMSELF.
Wiz: And he traveled 500 years back and saved the president of the United States. Because of this being a superhero for the first time, he accidently called himself Booster Gold than his original idea for his name: Goldstar.
Boomstick: And that's the quick history of Booster-- Wait.
Wiz: What?
Boomstick: Did his mom get cured?
Wiz: Yes. 
Boomstick: Thank God.
Wiz: Now, let's talk about Booster's weapons.
Boomstick: Yeah, let's talk about that.
Wiz: Booster Gold's weapon arsenal includes:
A Legion Flight Ring which allows him to fly.
Power Suit: This suit is designed to allow him to use a large range of attacks against opponents, use super strength, durability and travel through time
Brainiac 5's Force Field Generator Belt create force fields.
Boomstick: Let's talk about that force field first. This force field is the most awesome part of his weapon arsenal. When he started out, the field could withstand a punch from Doomsday, (remember that guy?) but has improved over time.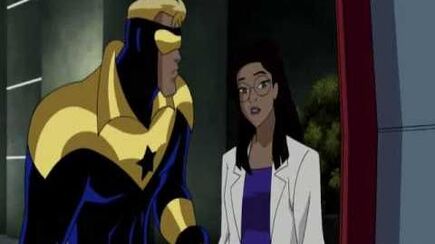 Wiz: This can block out bacteria, take the explosion of a White Dwarf, Cyborg Superman, Trigon, and EVEN MAXWELL LORD'S MIND CONTROL. Booster can even wrap this around his opponents and crush them! Boomstick: He's also got blaster gauntlets that took out HIS ONE-MILLION COUNTERPART, PETER PLATINUM.
Wiz: Even though his original plan was selfish, over time he became the hero nobody knows. With his help, the Justice League is probably fortunate they have him on their side. Wow, that felt weird saying that.
PRE-BATTLE
Wiz: Alright, the combatants are set and we've run the data through all possiblities.
Boomstick: But first, hey Wiz! Did you ever have doubles battle?
Wiz: A what? How is that even possible?
Boomstick: Check out our newest battle: Batman and Nightwing vs. Pyrra Nikos and Jaune Arc. This is a battle you can't miss!
Wiz: I think Batman and Nightwing win. Just saying.
Boomstick: But first, it's--
Wiz: TIME FOR A DEATH BATTLE!!!
Boomstick: Hey!
Wiz: Now you know how I feel.
DEATH BATTLE
(Booster Gold sits on top of a rooftop in Metropolis, eating a hot dog and watching Nostalgia Critic on a hologram screen from Skeets.)
NC: I mean, look at this guy. He's wearing GOLD. What the hell is wrong with you people?! He's not Green Lantern! What are you? Colorblind?!
Booster Gold: Ha. This guy's pretty funny.
(A giant explosion happens about a three miles away. Booster looks up and sets his hot dog down.)
Booster Gold: Time to get to work!
Skeets: Yeah, this can do wonders for your image, now.
(Booster flies to the explosion. Just as he gets there, a giant blast of wind nearly blow him out of the city. Wondering what happened, he flies to the newly formed crater only to see Saitama standing in front of the crater, staring at his fist in anger.)
Booster Gold: Hey, you! Did you do that?
(In anger, Saitama falls to his knees.)
Saitama: I... This.. All it took... was ONE PUNCH!!! NOT AGAIN!!! DAMN IT!!!
Booster Gold: HEY!
(Saitama stands up and looks at Booster Gold.)
Saitama: Who are you?
Booster Gold: Name's Booster Gold, I'm the hero you never heard of.
Saitama: Seriously?
Booster Gold: Look, just put your hands up, you Lex Luthor wannabe and--
Saitama: Wait.
(Saitama looks at a poster of Lex Luthor and realizes what Booster called him.)
Saitama: YOU GOLD COVERED SON-OF-A-BITCH!!!
FIGHT!!! (Saitama turns around and goes to punch him. Skeet knocks Booster over before Saitama could hit him. Booster stands up as Saitama goes for another punch. Booster puts up a force field and is hit. Instead of exploding, Booster's shield protects him and watches as Saitama begins to smile.)
Booster Gold: Nice try, but this can block out mind control.
Saitama: Mind control, huh? Have you ever been punched by someone this strong?
Booster Gold: No. Ever since Trigon, I never fought someone strong as you.
Saitama: Same, I've never come across a worth opponent... Booster Seat.
Booster Gold: That's it. Bring it on pal!
(Saitama punches him again, but the force field shatters. Booster gets up and puts two force fields around him. Booster gets an idea. While trying to travel back in time, Saitama punches him and he crashes into a city park.)
Booster Gold: Wait, where am I?
Saitama: How are you alive?
Booster Gold: How long have I been gone?
Saitama: A week.
(Booster Gold blasts Saitama.)
Booster Gold: That's for sending me into next week.
(Saitama stands up and smiles again, pulling back his fist. Booster blasts him with hundreds of blasts, hitting Saitama, catching him off balance. He regains his balance and throws and other punch. Booster puts up a force field, causing Saitama to hit the force field and Booster getting caught in the following shockwave. Booster floats up and sees the damage he's caught in. Saitama goes for another blow, but is stopped.)
Booster Gold: Oh, thank God.
(Saitama looks at his hand, his arm is caught in the force field with a bubble wrapped around him.)
Booster Gold: Let's go walk, 65 million years ago.
(They both dissapear, only to reappear in the exact same spot in the Jurassic Period.)
Saitama: What the hell?
(The force field bubble drops as Booster puts up three force fields around his body.)
Booster Gold: Bring it on baldy!
(Saitama jumps at Booster with many punches being thrown.)
Saitama: Give up! My punches will end you either way!
Booster Gold: Skeets, something's wrong with me, what's happening?!
Skeets: The blows he landed on you are about to make you explode! If that force field comes down, he wins!
Booster Gold: Time to use my secret weapon.
Saitama: Me too.
SERIOUS. PUNCH.
(Saitama punches Booster Gold only for Booster to dissapear and another Saitama is punched, splattering his head all over the ground.)
Saitama: DID YOU JUST CLONE ME?!
Booster Gold: Nope. That's you from when you punched me into next week.
Saitama: Oh.
(Current Saitama fades out of existance.)
Booster Gold: Skeets, is it okay for me to drop the force field?
Skeets: Yeah, you're good.
K.O.!!!
POST BATTLE
Boomstick: Wiz! Lock the door, one of them has a chainsaw!!
Wiz: Saitama has some unique feats, but what Booster lacked in speed and strength, he aced in other categories.
Boomstick: Remember how Saitama bragged he could beat a god?
Wiz: This has never been proven. Just like how he has the power to recreate the Big Bang.
Boomstick: But Booster's fought Trigon, WHO ATE THE HEART OF DARKNESS, A RELIC DESIGN TO EXTRACT ALL EVIL FROM THE MULTIVERSE, AND KICKED THE SHIT OUT OF SUPERMAN!!!
Wiz: And Booster's force field is indestructible, unable to break. Saitama could have overpowered Booster, but Gold had a final weapon in his arsenal: time travel.
Boomstick: Looks like Saitama isn't seeing red, he's seeing GOLD.
Wiz: The winner is Booster Gold. What was that?! Boomstick! Lock the door! We'll escape through the air vent!!
(NO SIGNAL)