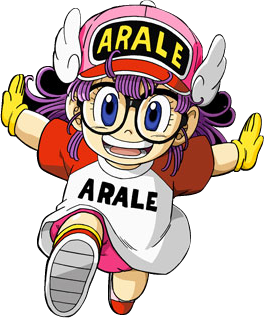 Arale Norimaki is the main protagonist of the anime/manga series, Dr. Slump.
Fanon Wiki Ideas So Far
Possible Opponents
Death Battle Info
Background
Age: 13 (Physically)
Height: 109 cm (3'6")
Weight: 31 kg (68.3 lbs)
Occupation: Student
Mission: Convice others that she is a typical girl
She can solve complex mathematical equations yet
Enjoys playing with poop she finds on the street
Able to tear her head apart and still function
She came up with the idea of Godzilla vs. Gamera long before Death Battle
Techniques
Arale Kick: a running dropkick
Headbutt: She jumps up very high and headbutts the enemy with very high force in the torso
Kiiiiiiiiin: a technique that lets her move about 500 miles per hour max
Woohoo!: Arale picks up a large boulder and throws it at her opponent
Earth-Splitter: Arale punches the ground and it splits the planet in half
N'cha Cannon
Arale must take a deep breath before yelling "N'cha!" or any other greeting
A very powerful beam of energy capable of destroying an alien flying camera in one hit
Using it repeatedly can drain her energy supply
Is capable of mixing it with an opponent's own energy beam attack
Matched Goku's God Kamehameha
Feats
Survived being sandwiched between Earth and Mars without any visible damage.

Her response was to move the planet Earth from Mars to Venus (which is a distance of at least 141,578,000 miles) with a single stomp to crush her attacker Caramel Man 001.

Knocked Caramel Man 001 so hard that bounced off of other planets (akin to a pinball) before he flew into the sun and cracked it upon impact.
split the planet in half with a simple punch
The already mentioned destroy moon with a rock
Throws two people towards Africa
Capable of lifting 100 tons
Took a bullet shot to the face and only broke her glasses
Dragon Ball Crossover Feats
Defeated General Blue with little effort
Arale claimed she could increase her N'cha Cannon to be at least 100 times stronger than SSJB Goku's God Kamehameha.
Weaknesses
Lacks in common sense and basic intelligence
Without her glasses, she has a hard time seeing things
Not formally trained to fight; considers fighting to be a fun game
If she runs out of energy, she would become completely immobilized
Obsession with poking dog turds