Alucard VS Mami Tomoe is a What-If? Death Battle by PlozAlcachaz (idea by WarpyNeko390) featuring Alucard from Hellsing against Mami Tomoe from Puella Magi Madoka Magica.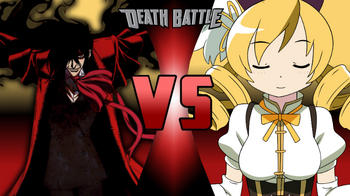 Description
Hellsing vs Puella Magi Madoka Magica! Two Marksman who wield guns and hunt magical beings, clash in a fight to see who can outlast the other!
Interlude
Alucard
Mami Tomoe
Intermission
Battle
Results
The Next Time...
Trivia
Who do you think will win?